We know home projects can be a pain. After all, you have a lot of labor on your hands and need to invest a good amount of time to make it fit within your schedule. But the last thing you want to deal with is all the garbage, debris, and wreckage from your project. Whether you are remodeling, cleaning up, or making additions, our Kansas City residential dumpster service is the best choice to make your life easier.
When you rent a dumpster, you need to make sure that it's going to fit in your driveway. Many larger dumpsters that you can find will be designed exclusively for commercial or larger projects. As such, they would only fit in your yard or other areas, which could damage your property in ways you didn't anticipate. Luckily, all of our residential dumpster rentals can fit right in your driveway.
Let's look at the different sizes and what you might use them for:
Sizes
Small Haul Containers offers a range of sizes for your to choose from. From your smallest cleanup project to your largest construction project, we have a rental container what will work for you. Below are the sizes we provide and the various projects you might need them for:
6 Cubic Yards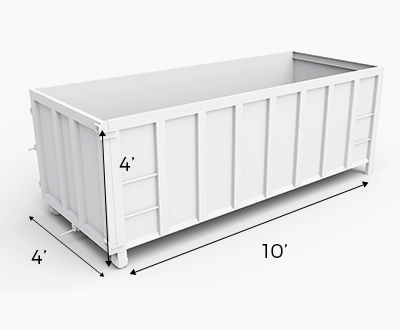 This is our smallest container available. Our customers commonly rent this for projects like cleaning out their garage, or remodeling a bathroom. Of course, you can also use it for kitchen remodels and more, depending on how many appliances and how much debris you need to get rid of. It can hold up to 2,000 lbs, and takes up the least amount of space so you might even be able to park in your driveway still.
10 Cubic Yards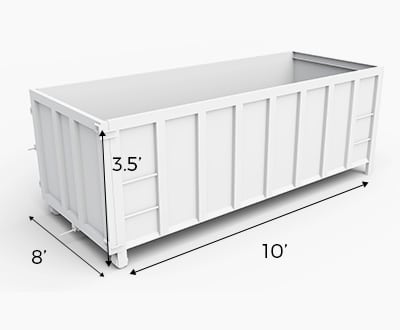 If you have a few small projects going on at the same time, or one medium sized project, then the 10 cubic yard dumpster could be perfect for you. It will fit numerous appliances, flooring scraps, and household debris. For instance, you might have some furniture that you were storing in the basement and a porcelain tub from a bathroom that you're remodeling. Our residential dumpster service makes the entire project seamless.
13 Cubic Yards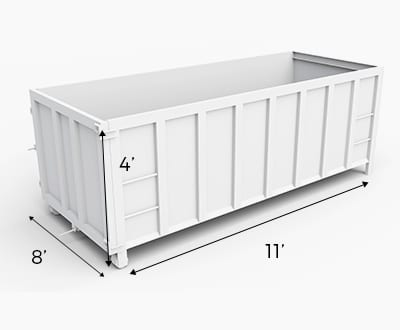 Once you graduate to one or more medium sized projects, it's best to rent a dumpster that is 13 cubic yard container or larger. You might be surprised how much space your windows and glass, countertops, fixtures, furniture, and general debris can take up. This is especially useful for multiple remodels simultaneously, such as your kitchen and bathroom.
16 Cubic Yards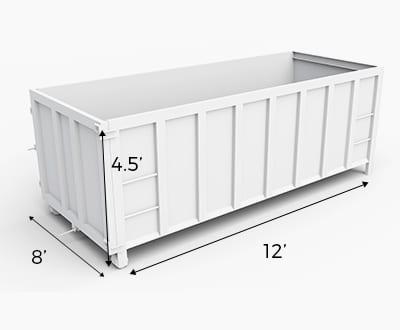 Larger projects, or several medium sized projects will require more space. Just one or two chunks of countertop, flooring, wall, concrete, roofing, or decking will make it harder to place additional items in the dumpster. The last thing you want to do is stop midway just to order another one.
20 Cubic Yards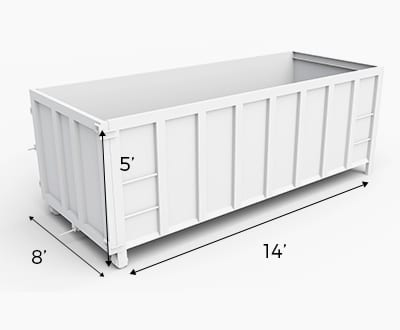 Our largest size is useful for entire home demolitions, construction, or remodeling. And in the event that you are cleaning up after a storm, you may want to book this one as well. Rent a dumpster that might even be a little too large instead of too small, so you can operate multiple indoor and outdoor construction, cleanup, and renovation projects with confidence.
The Process
Normally, when you are in the middle of a big home project, you have to worry about all your debris. It's a hassle to not know where to store or get rid of it. With our residential dumpster service, the entire process is made easy for you. Here's how it works:
1. Determine the Right Dumpster
Using the size guide above is the first place to start when determining which one will work best for your project. Also, consider how long your project is going to last. If you anticipate using the dumpster for multiple projects over a longer period of time, it's best to go up a size or two to be on the safe side and avoid the hassle of booking a separate one down the line.
2. Reserve Your Rental
Our online booking process makes it seamless to order your 7-day rental. If you prefer to talk to someone first, we are only a call away!
3. Work on Your Project
We will deliver your rental container right to your driveway or project location, as long as it's in our service area. Then, you just have to do your project like normal and fill it up as you go.
4. Get it Hauled Away!
Once you've filled up the dumpster or completed your project, your work is done! Let us know, and we'll send one of our professional haulers to take the dumpster and debris away and dispose of it. You don't need to worry about a thing!
The Small Haul Containers Difference
Service
As a locally owned company, you know we will be here to answer any questions or resolve any issues you have. Our dedication to incredible customer service is the main pillar that our business is built on. From taking pride in beautiful looking containers, to keeping your driveway protected, to responding quickly, we have your back!
Reserve Instantly
We've all experienced the headache of trying to reserve a service just to end up waiting ages for an estimate or even a response back! That's why we make things fast for you. Our online ordering process includes transparent pricing and quick ordering so that you can start making your schedule and planning right away.
Speedy Delivery
Depending on the length of your project and other deadlines, you might not always have time to wait for delivery. If you need your container right away we can often provide delivery that very same day. This gives you peace of mind that you can accomplish everything on time!
Book Today
It's time to get your project started with our residential dumpster rentals. With our easy booking system, you have nothing to lose. Simply give us a call at 913-991-1595 or reserve your rental container online now!
Service Areas:
Overland Park
Olathe
Leawood
Lenexa
Shawnee
Prairie Village
Spring Hill
Stilwell
Belton
Grandview
Louisburg
South Kansas City