A newly renovated bathroom can come with a number of benefits. It modernizes your home to improve the aesthetics. It gives you a renewed sense of pride in your investment. And of course you can boost the resale value of your home if you're looking to put it on the market in the near future.
Despite the upside remodeling your bathroom can also be quite the challenge. After all, there are numerous steps to consider. You have to envision the final design you're going for, and clear out any old or excess items and debris. While doing this, you have to keep your bathroom and work area clean. If you don't, you might end up with safety issues or items in your way that slow you down.
What if there was an easier way? That's where a dumpster rental from Small Haul Containers comes in!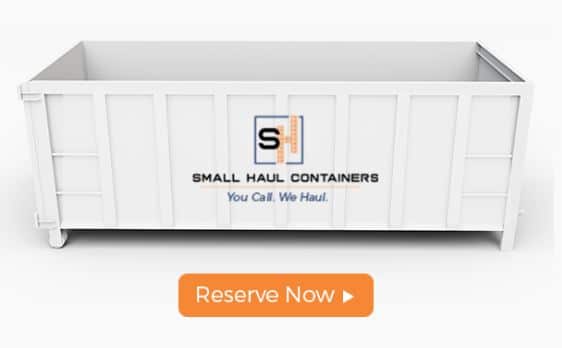 As your trusted local KC provider of rental containers, you can feel good about the quality of service you're getting as well as help deciding if our rentals are right for your project.
There could be a number of reasons that a dumpster rental for home projects is a good idea. So especially if you're wondering whether renting one for your bathroom remodel is the right choice, we think the answer is absolutely.
Here are some of the common items that a rental dumpster can help with when it comes to remodeling a bathroom:
Sink basin
Bathtub
Wall, backsplash, and floor tiles
Handles, hardware, and brass
Shower fixtures
Miscellaneous construction debris
Good luck fitting all of that in your standard trash cans around the house. Furthermore, many waste companies do not allow such materials based on their size or weight. This can leave you with two bad choices of either not doing the project at all or having to deal with debris everywhere and having tripping hazards or junk around your house for weeks.
Sizes
We pride ourselves on offering the best selection of sizes for your bathroom remodeling project in the area. Whether you need a small dumpster rental, a large one, or anything inbetween, you can count on our selection to meet your needs. Here are the various sizes we offer and different scenarios that they are best for:

If you are renovating one small half or full bathroom, you don't always need a gigantic dumpster rental. Still, you need something larger than your standard garbage cans which could never handle the needs of larger debris or bathroom pieces that you're throwing out. This "small dumpster rental" is a 6 cubic yard option can easily fit in most driveways and still hold up to 2,000 lbs of debris!

If you are doing more than just a partial bathroom remodel or need to renovate multiple bathrooms, it's time to start thinking about this size. This is only 4 more cubic yards than the smallest dumpster, yet it holds twice the weight: a total of two tons or 4,000 lbs. You can easily toss a bathtub, vanity, cabinet, mirror, and excess debris in here without thinking twice.

This option holds two tons as well. However, you 3 more cubic tons to work with. That extra space comes in handy when you're doing full remodels on 2 or 3 bathrooms for your home. This is also the minimum size you want to consider when you start demolishing walls for added space in your remodeled bathroom.

Sometimes, the whole bathroom needs to be changed out to meet your aesthetic standards. This lets you fit all the mirrors, bathtubs, tiles, wall components, and everything else you need for 2 or 3 bathrooms without having to book a second container.

At 20 cubic yards, this is our biggest and most versatile dumpster. It can handle 4 and even 5 bathroom remodels for larger homes. When you're completely unsure of what size to get but you know you have a massive project on your hands, this is the way to go.
Now that you see the tremendous benefits of a dumpster rental for home bathroom projects, as well as your size options, let's talk about how it works when you book with us:
The Process is as Easy as 1-2-3
We started Small Haul Containers because of the frustrations we had during our own home improvement projects. We knew there had to be an easier way and realized that no one out there was providing it! That's why we have simplified the process so that you can actually focus on your project. Here are the 3 easys steps to follow:
1. Find the Right Container for You
With a solid idea of how you renovate your bathroom in mind, it's time to choose the right dumpster rental. Use the guide above to narrow down your choice to the right size. When making your decision, be sure to take into account the length of your project, volume of debris you anticipate, and also any extra construction trash that might need to be disposed of along the way. When in doubt, it's always better to leave yourself a little extra room rather than be faced with a dumpster that is too full and overflowing.
2. Easily Make Your Rental
Our entire ordering process is easy and streamlined. You can view transparent pricing and book instantly. No hassle and no surprises!
3. Get Your Container and Get to Work!
Once you've made your booking and we've dropped it off for you, you have 7 days to use it for your project. We will safely deliver it to your driveway or other flat surface, including driveway protection, avoiding any damage. Then, you're free to get to work. Of course, when you're done just let us know and we'll haul the dumpster and everything inside away for you.
Don't Hesitate, Book Now
Once you finally have the ability to work on your bathroom remodel, you'll wonder why you didn't book your dumpster rental sooner. Call us at 913-991-1595 or use our easy online ordering now.
Service Areas:
Wondering if we deliver to your area? We service South Kansas City and Johnson County, including: Olathe, Leawood, Overland Park, Lenexa, Prairie Village, Shawnee, Spring HIll, Belton, Stilwell, Louisburg, and Grandview.